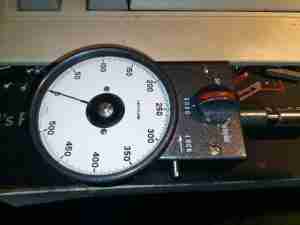 Quite a nice skip find this – it's a mechanical tachometer from Smiths, the Venture ATH4. Scaled to run to 50,000RPM in x1, x100 & x1000 scales this is quite a nice instrument. Input drive shaft is on the right, with the scale selection knob & pointer lock. Mechanical eddy-current movement is on the left.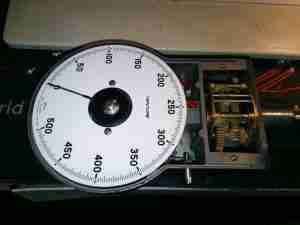 3 small screws allow the front cover with the crystal to be removed from the movement. Calibration is done with the adjustment in the centre of the movement itself, which will alter the tension on the hairspring. The ranging gearbox is on the right side, full of old hardened grease which I'll probably clean out & replace with fresh.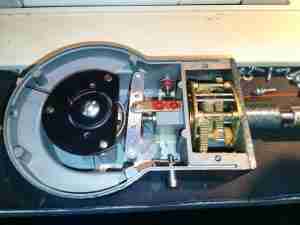 With care it's possible to remove the scale face without harming the movement or the very fine needle, this shows the remaining part of the mechanical drive. The see-saw after the gearbox is the reversing drive, so that the needle moves regardless of the input shaft rotational direction.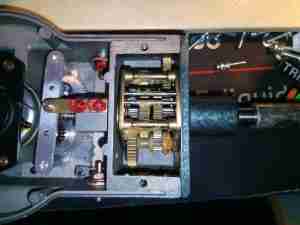 The ranging gearbox is very neat. It has 3 different gear ratios for the different ranges – here it is in the 500RPM position, which effectively gears the input drive up to drive the movement faster.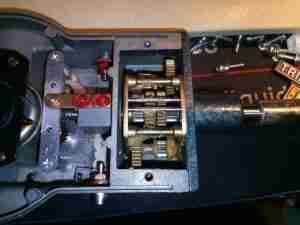 On the mid scale of 5000RPM, the gearbox reverts to direct drive into the movement, by pushing the input & output gears together – they both have gods on their faces to facilitate this drive.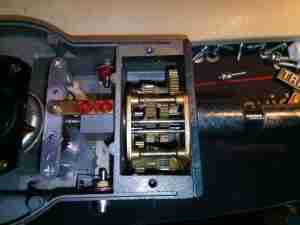 On the 50,000RPM range, the gearing changes to a reduction drive, slowing down the output to the movement.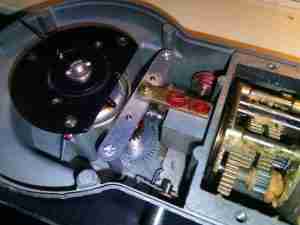 After the ranging gearbox, there's a final worm-drive reduction, with a fibre gear to reduce friction, and the reversing drive. The alloy bar swings with the forces of the worm drive to keep the drive to the eddy current movement, which is just visible under the black plate, running in the same direction regardless of direction of input drive. The pointer lock is also visible here, as the fine wire under the black plate. This just touches the drag cup to stop the pointer moving.
Amazingly, even though the calibration sticker has this instrument as last calibrated in 1997, it seems to be still perfectly within calibration – I'll have to compare with a laser tachometer to see how accurate it actually is.