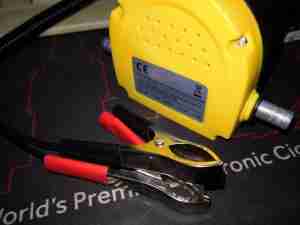 Yet another wonder of Chinese mass-production, this is a cheap (£10 shipped) oil/fuel transfer pump from eBay. Primarily intended for removing oil from engines through the dipstick tube, these are usually sold for all kinds of pumping uses. As will become clear, pumping highly flammable liquids with these might just be a bad plan. Power is supplied through a pair of croc clips, from a 12v battery. Power consumption is quoted at 5A, with a max runtime of 30 minutes.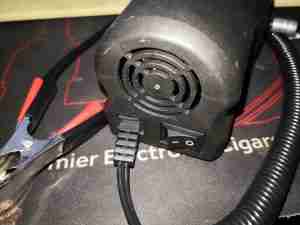 The coiled cable runs into the back of the plastic housing, where a power switch is also mounted. There's some ventilation holes, but nowhere for air to flow in at the other end. Smart.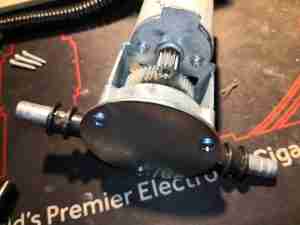 Removing the 4 screws on the front cover allows the pump unit to slide out, this is just held in place by the clamped halves of the housing on the rubber grommets on the pump ports. This is definitely a positive-displacement pump, as would be required to be self-priming.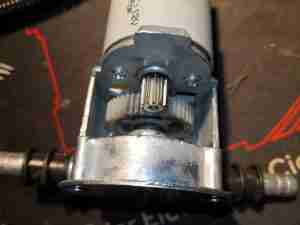 The pump is driven through a gear reduction from the motor.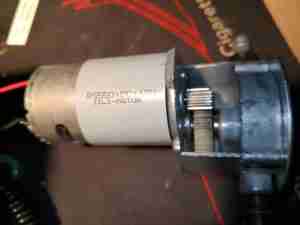 The motor itself is a bog-standard brushed type – and the reason why flammable liquids such as Petrol should not be pumped with this unit. It's not ignition protected by any stretch of the imagination, and my guess is the shaft seal isn't brilliant. So any combustible vapour around the motor is going to be ignited quickly by the sparking brushes on the commutator.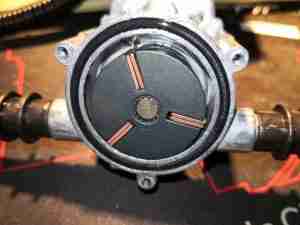 Removing the front cover reveals the pump's innards. It's a sliding vane pump! The vanes themselves are made from copper-plated steel, the rotor looks to be metal injection moulded from iron or steel. As the housing is a soft alloy – probably Zinc or Aluminium – I would predict that the steel vanes will make relatively short work of the housing, rather rapidly wearing away the inner surface. Only time will tell on this one.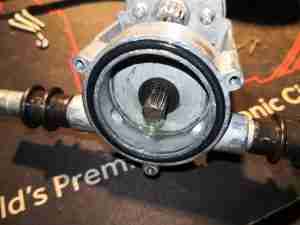 The rotor is only slipped onto the shaft splines, and comes out easily. The shaft itself does have a seal.