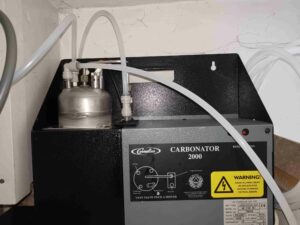 To run my postmix rig, I needed a carbonator, to turn tap water into soda water. These units are very common in pubs in the UK, and are very simple in construction. The unit is fed water at about 3 bar from the water main & food-grade CO² at about 5 bar from a regulator, and soda water appears at the outlet.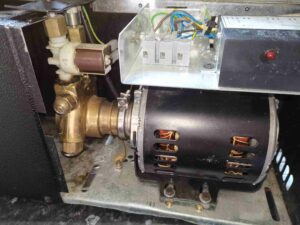 To raise the incoming water pressure above the pressure in the carbonator tank, the unit contains this rather large vane pump, with a 230v induction motor for mechanical power. There's a solenoid valve on the inlet to prevent water flow when the pump is off, and the motor is automatically controlled.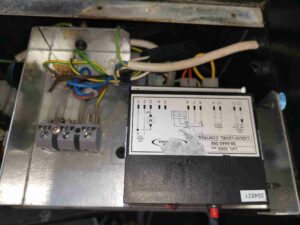 Above the pump is the electrical wiring & control. This is a simple level control, and reads a conductance probe inserted into top of the carbonator tank, activating the pump when the level in the tank drops below a minimum level, and shutting it down when a max level is reached. There's also a timeout function, which shuts everything down on lockout if the pump runs longer than a preset time interval as protection in case of such issues as a leak in the system, or dry running without a water feed.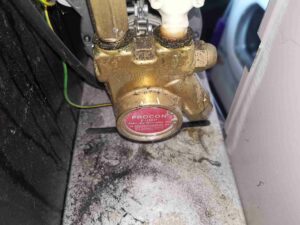 Coupled to the front of the motor is a carbon vane pump. This type is very commonly seen in food-grade equipment, such as these units, and commercial coffee machines. The unit has a suction strainer, and a built-in pressure relief valve to stop the pipework exploding or the motor from burning out if there's a blockage in the outlet line.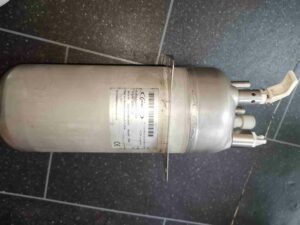 The final & main part of the unit is this 115mm diameter stainless steel tank, with fittings at the top. This is pressurised with CO², and water is sprayed into it through an orifice. This spray increases the surface area of the incoming water, making it absorb as much of the gas as possible. There's a pressure relief valve at the top, just in case the internal pressure reaches dangerous levels.