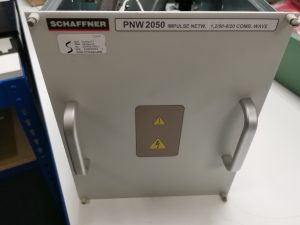 Here's another module from the decommissioned impulse testing rig – the pulse forming network for the Surge generator section. Lots of high-energy high-voltage parts should be hiding in here.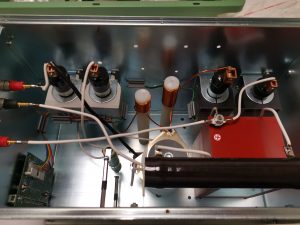 Pulling the cover off shows there's not a lot to the network, but it's a collection of rather exotic parts. The row of 4 devices on the back panel are Mercury Displacement Relays – these don't have solid contacts as such, but a pool of metallic Mercury that gets pushed up by a magnetic plunger into contact with both terminals. I'll do a separate post on these not very common parts. A couple of small chokes wound on large nylon studding are in the centre, along with an adjustable wirewound resistor. On the right is the main energy storage capacitor, rated at 10kV – this thing is enormous, and about half the size of a house brick. The large vitreous wirewound resistor next to it is the safety discharge resistor, switched by the normally closed Mercury relay on the far right. Charging & impulse discharging are handled by the other three relays.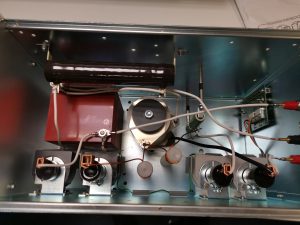 Another view shows a very large stack of high voltage pulse rated resistor pucks, there are three in this stack, held together by a large bolt down the centre.