Time for another Chinese gadget! This time it's a tiny GPS tracker, designed to look like a standard vehicle relay, the MV730.
Only a partial teardown on this one, since I need the thing to work afterwards, and the unit is very tightly integrated. Not only does this unit look like a relay, it's exactly the same size. Some serious compaction of the electronics has been done here to get things into such a small package.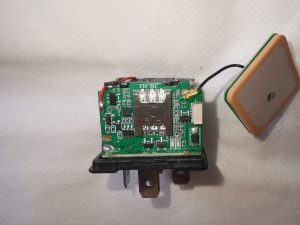 On one side is the PCB with the GSM module (it's on the other side of the board), and the SIM socket. There are also a pair of LEDs to show both GPS & GSM status. The module on this has both GPS & GSM functions, so the active antenna is connected directly to the PCB here.
There is a very small-pitch 4 pin connector just under the antenna connection, I would assume this is for a TTL serial connection to the radio module.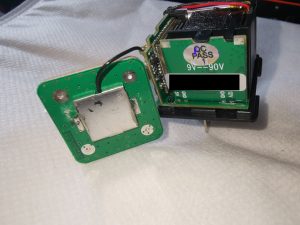 The GPS antenna is attached to the top of the assembly by a sticky pad, which has here been peeled off. The other vertical PCB is visible here also, which contains the power supply for the tracker. As this unit can handle anything from 9-90V (allegedly), there's going to be some DC-DC action on that board. The serial number is also on this PCB, redacted for privacy 😉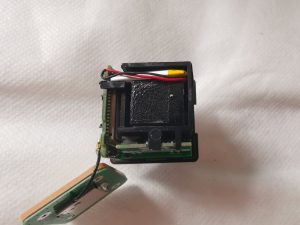 even the centre of the unit is packed with parts. There's a plastic frame for general support, and this also has the foil GSM antenna stuck to it. There's also an 80mAh backup Lithium Ion cell, and an actual relay hiding in the middle which is for the "Fuel Cut" feature of this tracker.