It has come to my attention via Google's Webmaster Tools, that they're reporting that malware has been found on my blog here, and are apparently going to issue site malware warnings to people about this when they click on links to this site. However it seems even Google can't tell me where they've apparently found this through crawling the site: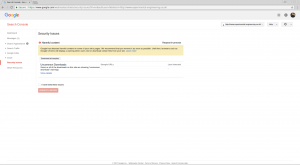 Here is the listing from GWT, but it's totally blank! The download all samples link also gives a totally blank CSV file. This matches my own searching through the file structure of the blog with a malware scanner, (and ClamAV to check my binary downloads), as I've not found anything either.
Google didn't think it prudent to email me about this either, I only discovered these warnings this evening on checking my account; yet I get an email within 4 hours of deleting something, from the bot complaining that a page suddenly isn't available any longer. This simply isn't the way to do things Google, and as far as I can see these warnings have been in error, as I've not managed to generate an error by clicking on one of my site links in Google's listings (from a different location, and browser, with no connection to any of my accounts, to make sure I'm not skewing the result).
Even stranger, is that my old domain name, insideelectronics.co.uk (which is still live, and redirected with a 301 to the new domain of experimental-engineering.co.uk), isn't showing any of these site malware warnings in GWT, adding further to my suspicion that this is just Google spouting total bollocks.
However if any readers have encountered one of these apparent site malware warnings, please let me know so I can get this fixed as soon as possible. I've requested a review with Google to clarify things, but I don't expect to hear back from them for at least 72 hours. Traffic doesn't seem to have been affected so far, which probably means that none have been displayed to readers but I don't know how long these site malware warnings have been in place.