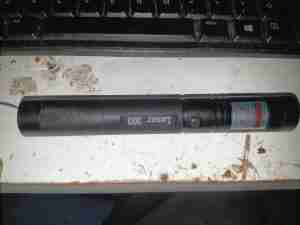 Here's a cheapo 532nm green laser pointer courtesy of eBay, this one rolled in at £7, with 18650 cell & charger included. Advertised at 1mW, I was immediately suspicious of the output power since this unit quite easily causes skin burns.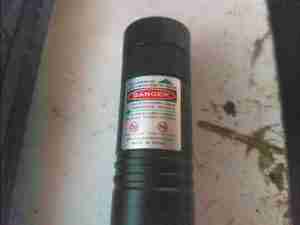 The warning label rates this laser at Class III, with an output power of <1000mW. Massively higher than the 1mW advertised. The end cap is split into two parts that are threaded – the first one is a starfield effect diffraction grating, while the second one moves the final optic to focus the beam.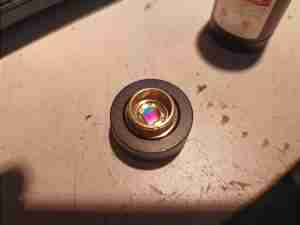 The starfield gratings are mounted inside a brass ferrule, which can be rotated to alter the effect without unscrewing from the main body.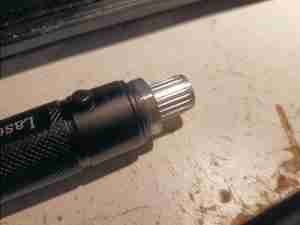 Removing the output optic barrel reveals the end of the DPSS laser module, which appears to be well glued in. The aluminium cylinder doesn't appear to have any other purpose other than to protect the laser output end.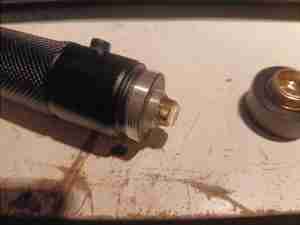 Unscrewing the cylinder reveals the glued holder containing the KTP crystal, and the first output optic. The beam from this alone is very divergent, expanding to ~100mm over a meter or so. The beam right at the optic though is highly focussed & is quite capable of cutting through black electrician's tape.
There's also no IR filter anywhere in the optical path – so there is going to be a high power 808nm/1064nm component to the beam since these wavelengths are used in the DPSS process. Since these components are totally invisible, the risk for eye damage is higher due to lack of a blink reflex.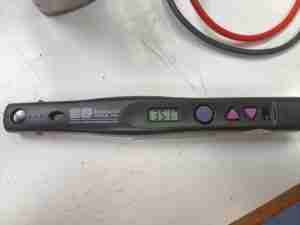 On to the power reading… 351mW of output at 532nm. So quite a bit more than the advertised spec then, but lower than the warning label states. This puts this unit into Class IIIB.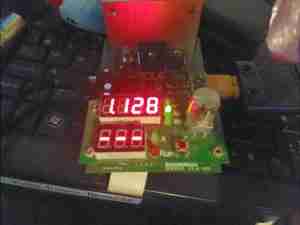 From a full charge, down to 2.8v, the "4000mAh" cell provided with this unit managed a pitiful 1128mAh. I knew from the second I got this cell that it would be a fake, since decent 18650 lithium-ion cells cost about the same as this whole package.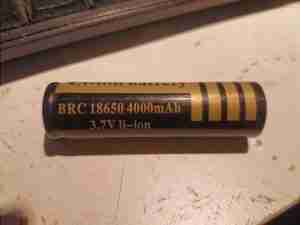 This cell claims a 4000mAh capacity, and built in protection circuit. Let's dig under the sleeve…
Nope. No protection circuit here. It's easy to tell anyway – protected cells are longer, and usually the strap buggering off to the other end of the cell is visible through the sleeve. There is a dual-layer sleeve though, of clear PVC under the BRC branded one. No other markings on the cell at all, and it's suspiciously light in weight.