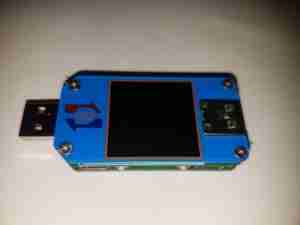 Here's a nice little feature-packed USB power meter, the UM25C. This unit has USB-C along with the usual USB type A connectors, along with a bluetooth radio for remote monitoring of stats via a Windows or Android app. Construction is nice, it's a stack of two PCBs, and polycarbonate cover plates, secured together with brass posts & screws.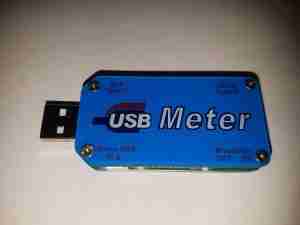 The back cover has the legend for all the side connectors, along with the logo.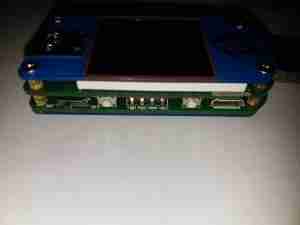 Down the sides are the user interface buttons, and here the Micro-B input connector. The 4-pin header is visible here that takes serial data down to the bluetooth section.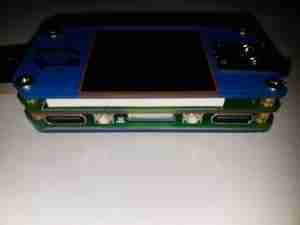 The other side has the remaining pair of buttons, and the USB-C I/O. I don't yet own anything USB-C based, but this is good future proofing.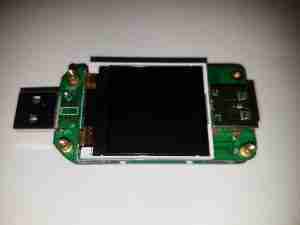 Removing the top plastic cover plate reveals the small 1″ TFT LCD module. This will be hot-bar soldered underneath the screen. There's an unused footprint next to the USB input connector, judging by the pin layout it's probably for a I²C EEPROM.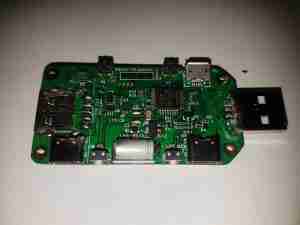 The underside of the top PCB has all the main components. The brains of the operation is a ST STM8S005C6T6 microcontroller. It's at the basic end of the STM range, with a 16MHz clock, 32K flash, EEPROM, 10-bit ADC, SPI, UART & I²C. The main 0.010Ω current shunt is placed at the top left of the board in the negative rail. A couple of SOT-23 components in the centre of the board, I haven't been able to identify properly, but I think they may be MOSFETs. The large electrolytic filter capacitor has a slot routed into the PCB to allow it to be laid flat. Providing the main power rail is a SOT-89 M5333B 3.3v LDO regulator.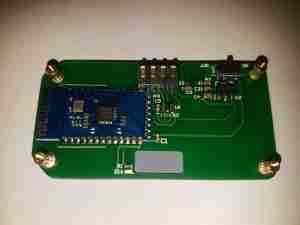 The bottom board contains the bluetooth radio module, this is a BK3231 Bluetooth HID SoC. The only profile advertised by this unit is a serial port. There's a local 3.3v LDO regulator & support components, along with an indicator LED.