Cheap car air compressors for inflating tyres are so cheap these days it's almost impossible not to have to cut some corners. This one has failed catastrophically! These units are usually very poorly cooled, being housed in a  closed plastic casing, with no airflow to speak of. The motor on this unit was fine, but the rest of the mechanical parts have taken a real beating.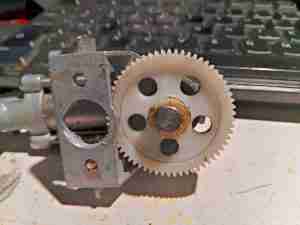 I've removed the motor from the compressor head, leaving the main plastic drive gear exposed. The originally D keyed hole is now completely round, having been melted at some stage, the gear then just spins on the shaft without transmitting any drive.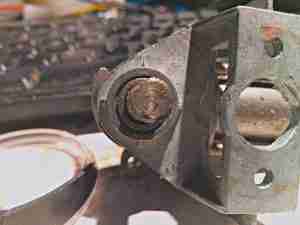 Here's the crank main bearing, just a simple sleeve. There's extreme wear present, about 2mm in total! This bearing has probably run dry of lubricant, then the steel shaft has just chewed through the relatively soft metal of the bearing, which is probably pot metal.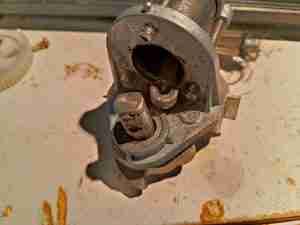 I've turned the shaft round here to show the large gap between the shaft & bearing bushing.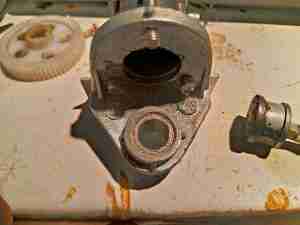 This is what's left of the bearing, complete with a coating of swarf.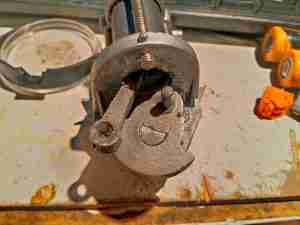 The big end bearing of the connecting rod is also damaged – probably due to the play introduced by the rapidly disintegrating main bearing. At some stage the crankpin has worn through the rod enough for it to slip out entirely, leaving the piston stationary.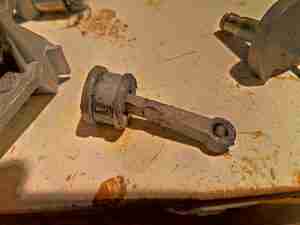 Wear in the side of the connecting rod shows that the spinning crank has been wearing it away for quite a while, eventually the rod probably fell into just the right spot to jam the crank, causing the failure of the main drive gear.