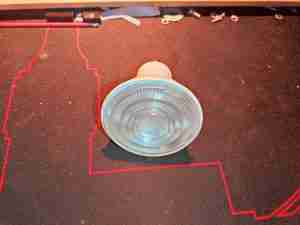 Here's a recently failed 5W GU10 lamp, which is completely dead – not even a single LED still shining.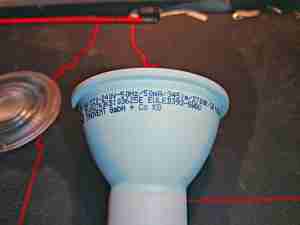 According to the markings, this lamp draws 50mA at 230v & outputs 345 lumens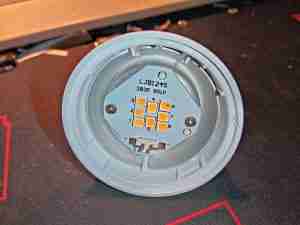 After popping the lens off the body, the failure mode is obvious. The top right LED has the Black Spot Of Death, where one of the LED dies has catastrophically failed in service. As these lamps usually have all the multi-die LEDs in series, a single failure will cause the lamp to totally fail. Running LEDs hard, with little cooling is a common cause of this kind of failure. There isn't much in the way of heatsinking in this lamp, as the outer casing is plastic, and even though the LEDs are soldered to an aluminium cored PCB, the only other heatsink is the aluminium base for the PCB, which is in contact with the outer plastic.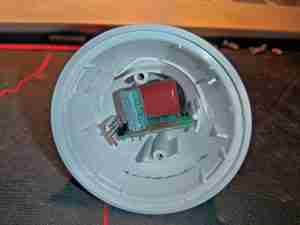 Removing the LED board & backing plate allows access to the power supply in the rear of the lamp. There's no switching supply in this one, just a large film capacitor.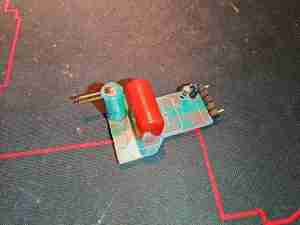 Snipping the pins off the back allows the PCB to be removed, exposing the capacitive dropper from the mains. The output electrolytic cap has also failed on this board, as can be seen from the opened vent on the top.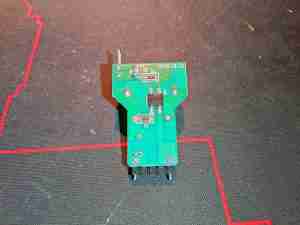 There isn't much on the back side of the board, apart from the bridge rectifier & a couple of resistors.