Since rebuilding the burner for the Webasto water heater on board nb Tanya Louise, I figured it was about time I sorted the exhaust out as well. The standard Eberspacher / Webasto type exhaust system components are shit. Nothing is properly gas tight, no matter how you build the system, due to how the pipe is constructed – it's spiral ribbed stainless flexi tube, and even proper clamps don't exert enough force to create a gas seal on the fittings, leaving gaps in the spiral for exhaust to leak out. Unfortunately I don't have a photo of the old exhaust setup – it was however awful.
So to fix the problem of the messy setup, and to fix the issue of leaking exhaust gases, I got to work creating a custom system from 22mm copper pipe, brazing all the joints together.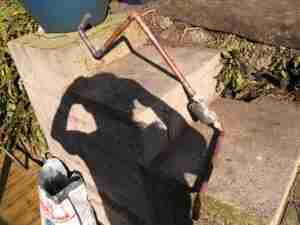 Here's the completed system, matched to the location of the heater unit in the engine bay, and the exhaust skin fitting. The ends of the pipe are expanded with a hydraulic tool to allow them to fit onto the heater & skin fitting, these being too large for 22mm pipe normally.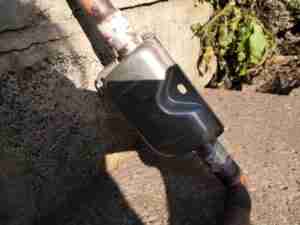 The muffler is also fully brazed to keep exhaust gases inside the exhaust. These are supplied just crimped together as they're intended for use under vehicles. A sealed marine grade exhaust silencer is available, but very expensive. Again the copper pipe ends are expanded with the hydraulic tool to allow them to fit into place on the stainless tails. Brazing was done with 55% silver brazing rod.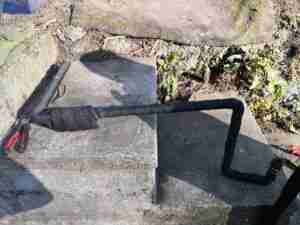 To keep the heat away from sensitive parts in the engine bay, the entire assembly has been wrapped in fibreglass insulation tape, and secured with stainless steel ties. It's important to use only stainless in these applications – the fibreglass wrap will hold any moisture in contact with all the parts, and mild steel will rapidly convert back into Iron Oxide 😉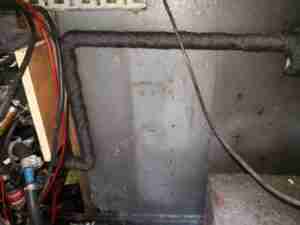 The heater itself is on the other side of the plywood board in the photo, the cooling water pipework can be seen on the lower left, along with the diesel dosing pump. The main fuel tank is just visible in the bottom right corner.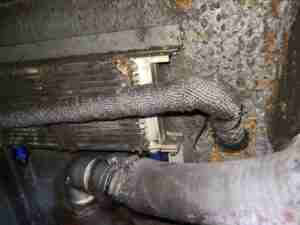 The other end is sized for a snug fit onto the exhaust skin fitting, just astern of the old oil cooler. This is set to be removed at some stage, and be replaced with an engine bay blower for ventilation.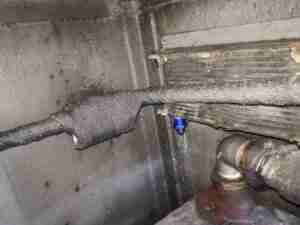 In the corner, next to the bulkhead sits the silencer.
In all, this setup also made the heater quieter, probably due to the longer length of exhaust pipework, which is now about 1.5 metres from the heater outlet to the skin fitting. This is a bonus – the exhaust of these heaters without any silencing sounds like a jet engine!