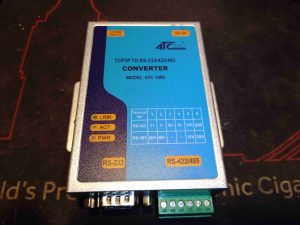 Just a quick teardown this month! This is an industrial RS-232/RS-485 to Ethernet serial converter.Not much to say about the outside of the unit, there's the DB-9 connector for the 232 interface, and Phoenix connector blocks for the 422/485 interface. The main power input, and the Ethernet jack are on the other side.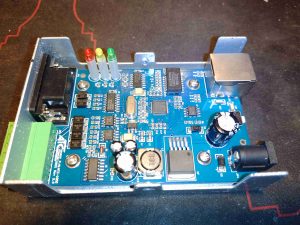 Under the hood, there's a pretty densely populated board. The brains of the operation is a IP210T Serial to Ethernet SoC with A/D Converter. This is an 8051 based core, wuth 10/100 MAC. No flash memory here either, only 64KB of OTP EPROM. On the left there's a few bus transceivers to interface the serial ports, along with some glue logic. At the top we have the Ethernet magnetics, configuration EEPROM for the SoC & a trio of indicator LEDs.
Power supplies are dealt with via an LM2576-3.3 DC-DC buck converter, providing the main 3.3v rail for the logic.