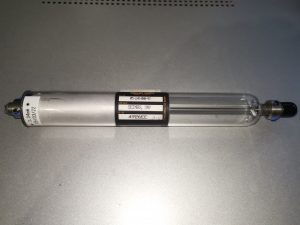 Here's another Helium-Neon to add to the electric glassware collection, a 2mW Melles-Griot 05-LHR-088 which I pulled from the optical assembly from an ancient Spectra-Physics SP910 laser level. This tube is a standard Red 632.8nm with Random beam polarisation. The specifications are in the table below:
| Minimum Optical Power | e/2 Beam Diameter | Divergence | c/2L Mode Spacing | Supply Opr/Start Volts | Nominal Current | Diameter/Length |
| --- | --- | --- | --- | --- | --- | --- |
| 2mW | 0.63mm | 1.4mR | 641MHz | 1.82/10kV | 4.5mA | 29/241mm |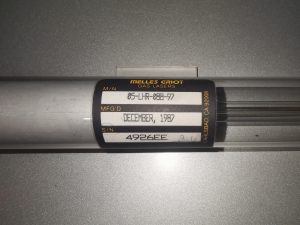 The label shows that this tube was manufactured back in 1987. 34 years at the time of writing! There is a slight amount of brown deposit in the main bore, indicating the tube has seen some use, however it's nowhere near as bad as the Barcode scanner tube I have, which must have spent many years operating. I am assuming the "2.6" hand-written onto the label next to the serial number was the power measured at the factory.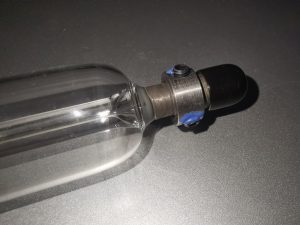 This tube is old enough to have 3-screw locking/adjustment collars on the mirror mounts. This one is at the anode end of the tube, with a cap over the HR mirror for protection.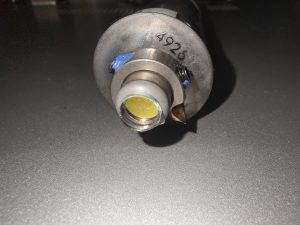 The OC (Cathode) end of the tube has the same locking collar.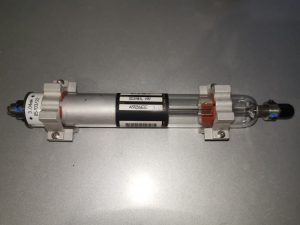 The original tube mounts are reattached here, made from Aluminium with silicone rubber pads.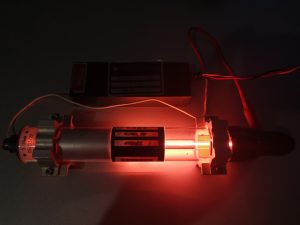 Here's the tube running on a LaserDrive 4.5mA PSU. The camera doesn't quite pick up the colour of the discharge, it's more salmon-pink.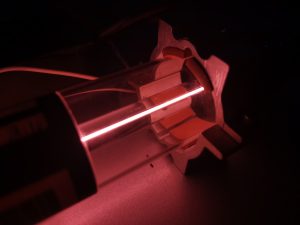 A closeup of the bore more accurately shows the colour of the glow discharge in the tube.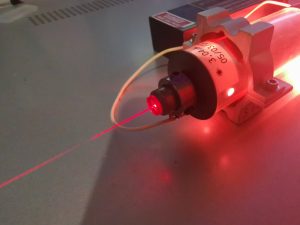 Finally, the output beam from the tube. This one actually measured at 3.04mW on a Coherent LaserCheck, a bit higher than the assumed factory measurement of 2.6mW!