It's been 4 months since I did a rejig of my storage server, installing a new 16-port SATA HBA to support the disk drives. I mentioned the factory fan the card came with in my previous post, and I didn't have many hopes of it surviving long.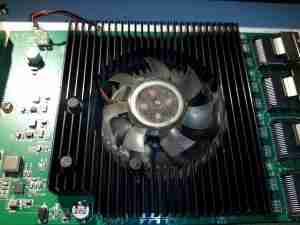 The heatsink card has barely had enough time to accumulate any grime from the air & the fan has already failed!
There's no temperature sensing or fan speed sensing on this card, so a failure here could go unnoticed, and under load without a fan the heatsink becomes hot enough to cause burns. (There are a total of 5 large ICs underneath it). This would probably cause the HBA to overheat & fail rather quickly, especially when under a high I/O load, with no warning. In my case, the bearings in the fan failed, so the familiar noise of a knackered sleeve bearing fan alerted me to problems.
A replacement 80mm Delta fan has been attached to the heatsink in place of the dead fan, and this is plugged into a motherboard fan header, allowing sensing of the fan speed. The much greater airflow over the heatsink has dramatically reduced running temperatures. The original fan probably had it's bearings cooked by the heat from the card as it's airflow capability was minimal.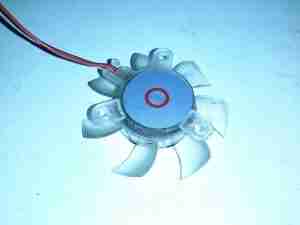 Here's the old fan removed from the heatsink. The back label, usally the place where I'd expect to find some specifications has nothing but a red circle. This really is the cheapest crap that the manufacturer could have fitted, and considering this HBA isn't exactly cheap, I'd expect better.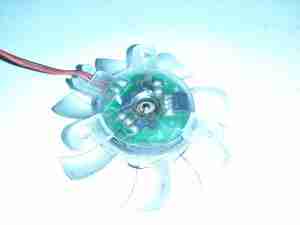 Peeling off the back label reveals the back of the bearing housing, with the plastic retaining clip. There's some sign of heat damage here, the oil has turned into gum, all the lighter fractions having evaporated off.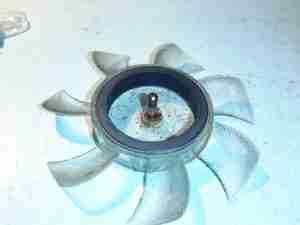 The shaft doesn't show any significant damage, but since the phosphor bronze bearing is softer, there is some dirt in here which is probably a mix of degraded oil & bearing material.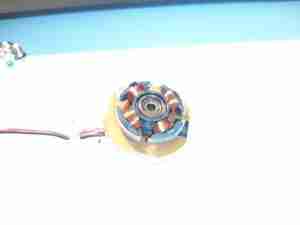 There's more gunge around the other end of the bearing & it's been worn enough that side play can be felt with the shaft. In ~3000 hours running this fan is totally useless.