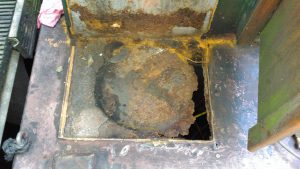 This is a part of the boat that hasn't really had much TLC since we moved aboard, and finally it's completely succumbed to corrosion, opening a rusty hole into the engine space below. I've already used a grinder to remove the rest of the locker – and even this had corroded to the point of failure all around the bottom just above the welds. The bulkhead forming the rear of the locker has also corroded fairly severely, so this will be getting cut out & replaced with a new piece of steel.
This was originally a 1/8″ plate, but now it's as thin as foil in some places, with just the paint hiding the holes.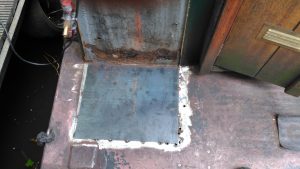 I've cut out as much of the corroded deck plate as possible –  it's supported underneath by many struts made of angle iron, and got the new 3mm replacement tacked in place with the MIG. I've not yet cut out the rotten section on the bulkhead, this will come after we've got the steel cut to replace it, as electrical distribution is behind this plate – I'd rather not have weather exposure to the electrical systems for long! Unfortunately more corrosion has showed itself around the edges of the old locker: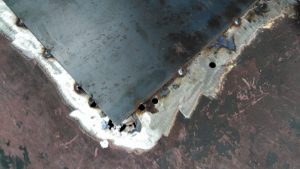 Around the corner the steel has pretty much totally failed from corrosion coming from underneath – applying welding heat here has simply blown large holes in the steel as there's nothing more than foil thickness to support anything.
Some more extensive deck replacement is going to happen to fix this issue, more to come when the steel comes in!