A few months ago I did a teardown on this Anker PowerPort Speed 5 USB charger, but I didn't get round to detailing the conversion to 12v I had to do, so I'll get to that now I've got a couple more to convert over.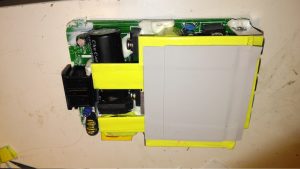 Here's the internals of the Anker charger once I've removed the casing – which like many things these days, is glued together. (Joints can be cracked with a screwdriver handle without damaging the case). There's lots of heatsinking in here to cool the primary side switching devices & the pot core transformers, so this is the first thing to get removed.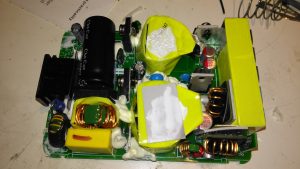 Once the heatsink has been removed, the pot core transformers are visible, wrapped in yellow tape. There's some more heatsink pads & thermal grease here, to conduct heat better. The transformers, primary side switching components & input filter capacitor have to go.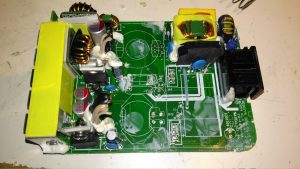 Here's the PCB once all the now redundant mains conversion components have been deleted. I've left the input filtering & bridge rectifier in place, as this solves the issue of the figure-8 cable on the input being reversible, polarity of the input doesn't matter with the bridge. I've removed the main filter capacitor to make enough room for the DC-DC converters to be fitted.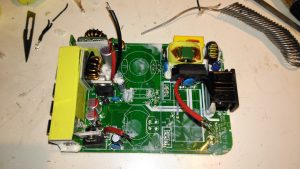 Installing the tails to connect everything together is the next step, this charger requires two power supplies – the QC3 circuits need 14.4v to supply the multi-voltage modules, the remaining 3 standard ports require 5v. The DC input tails are soldered into place where the main filter capacitor was, while the outputs are fitted to the spot the transformer secondary windings ended up. I've left the factory Schottky rectifiers in place on the secondary side to make things a little more simple, the output voltages of both the DC-DC converters does need to be increased slightly to compensate for the diode drops though. I've also bypassed the mains input fuse, as at 12v the input current is going to be substantially higher than when used on mains voltage.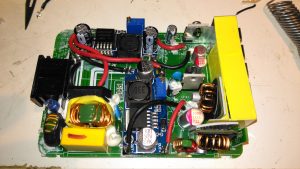 With a squeeze both the boost converter & the buck converter fit into place on the PCB.