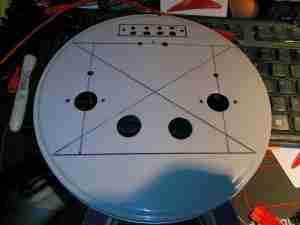 I figured it was about time I built another valve amplifier, and since I already had most of the required parts in stock, here it is! Above is the lid of a cake tin sourced from a local shop as a case, marked out & drilled for the valve sockets, output transformers & speaker terminals.
The ECL82 valve is a Triode & Audio Output Pentode in a single envelope, requiring only a single valve per audio channel. There are a pair of extra holes drilled here for a couple of EM80 magic-eye valves wired as VU meters to give a bit of a lightshow.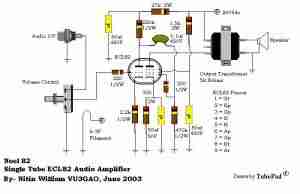 Here's the base schematic for the Class-A ECL82 amplifier sections, obtained from the interweb. It's pretty basic, and doesn't mention a value for the volume potentiometer, so I used a 100K audio taper for that. Power will be supplied from low-voltage DC, running through a high voltage DC-DC converter for the anode supply of 200v, and a 5A buck converter for the 6.3v filament supply.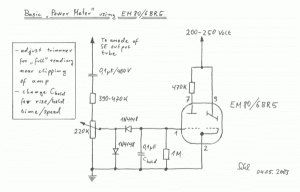 The EM80 side is as the schematic above, the signal input being taken directly from the Pentode anode of the ECL82. I have removed the second 1N4148 diode down to ground, leaving only a single diode.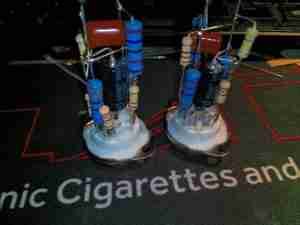 Most of the parts comprising the ECL82 amplifier stages are mounted directly on the back of the valve sockets, requiring only a 6.3v filament supply, 200v anode supply & audio I/O connections. Axial electrolytics have been used for ease of assembly, even though they're getting a little expensive nowadays!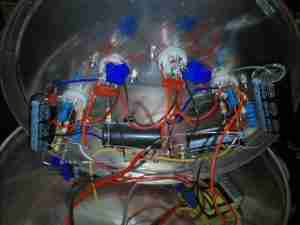 After fitting the components to the top lid, point-to-point wiring is used to connect up the valve socket assemblies. Some large electrolytics provide B+ smoothing, and all the filaments are daisy-chained in parallel. Audio is brought in on micro-coax from the I/O, and straight out to the output transformers on twisted pairs, keeping the audio wiring away from the B+ voltage.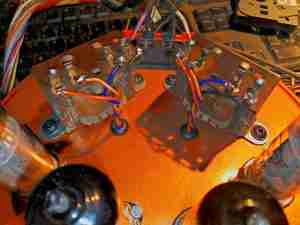 The audio transformers, from a 1960's Philips Radiogram, are mounted behind the valves, with the wiring emerging through holes in the case. I've already done the paint job here, in metallic copper.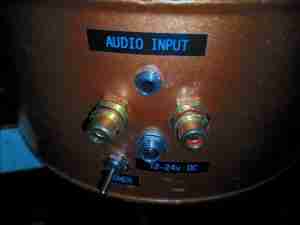 Audio & power sockets are on the back of the tin, with both 3.5mm Stereo inputs & phono inputs. A DC barrel jack takes care of the power, accepting 12-24v.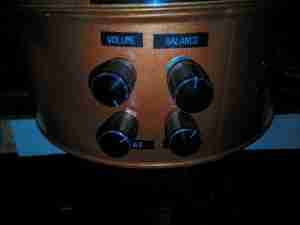 Controls on the front provide volume, balance, bass & treble adjustments.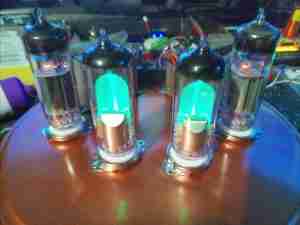 Here's the amplifier with it's valves glowing nicely. Total power consumption is roughly 30W, using NOS Svetlana ECL82s & EM80s. In operation there is no hum or noise in the background, with no audio input the connected speakers are entirely silent.