Recently I figured it was about time I treated myself to a brand-new laptop, and as I was also in the market for a tablet at the same time, I figured I'd go with one of the "convertible" types that are about these days.
The HP x360 series are locally available to me for fairly reasonable prices, so I decided to go with one of these. With a Core i7-1165G7 11th Gen CPU, and factory with 16GB of RAM (upgradeable), and 512GB of NVMe SSD for storage as standard, I figured that this would be a snappy little laptop just for my general day to day use. Unfortunately my local supplier (Curry's PC World), don't actually give the model number, but it's their stock code 676743.
As every machine does, they come with Windows pre-loaded, which is rather a pain. I've not used Windows in a production environment for over a decade, and I don't plan on starting again now, so the first thingto do is image the NVMe SSD (having a backup of the original image is handy), and firing up a Linux Mint bootable USB. I did need to enter the BIOS to disable Secure Boot for this to work correctly.
There were some issues with the standard version of Mint 20.3 – namely no touch screen and no mousepad. It's certainly not uncommon for really new hardware to have support issues in minstream builds of Linux, and as Mint 20.3 by default runs on Kernel version 5.4, this needed to be upgraded. (For reference Mint Edge Edition does come with a later version of the kernel as standard, but I didn't have an image to hand).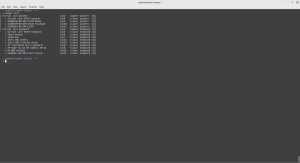 The touchscreen controller and mousepad are both Elan products – an ELAN0749 04F3:31A5 for the mouse, and an ELAN2514 04F3:2CF3 for the touchscreen. Both are operated over I²C.
Once the kernel was updated to version 5.13, there were no more issues with the mousepad, and the touchscreen works es you expect a touchscreen to work. The only bug I've found so far is with the included smart pen – once the pen is detected finger touch stops working, and the only way to get it back is a full reboot, which is most annoying. This isn't a massive issue for me, but hopefully driver support for the ELAN touchscreen controllers will improve with time.
Another upgrade I did straight away since I had the parts hanging around was to upgrade the RAM to a full 32GB. This is a very simple swapover – the bottom of the laptop does need to be removed, the screws for which are underneath the rubber feet on the bottom panel, which can be peeled back gently with fine tweezers for access. There are 5 screws in total.
Before the RAM upgrade, the system was quick under Linux – with a full 32GB there is much more capability. The NVMe drive is also replaceable, so this will probably get upgraded with time to at least 1TB.
Overall, I'm very happy with this HP laptop, I will post an update after I've had some time to get to know it better.