In the process of going through the boat mechanically, ready for this year's cruising season, some damage was discovered on the face of the main hydraulic propulsion pump that drives the propeller.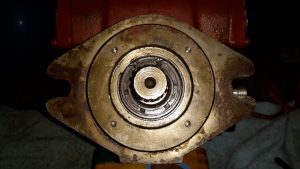 Here's the front face of the pump, with it's drive shaft. The circular ridge isn't supposed to be there, it's meant to be completely flat.
The central hub of the Centaflex coupling managed to loosen itself on the shaft (they're pretty badly designed), and when the steel hub moved backward, it ground a very nice recess into the cast iron pump housing.
This managed to get deep enough where it compromised the circlip groove that holds both the oil seal & the mainshaft thrust bearing in place.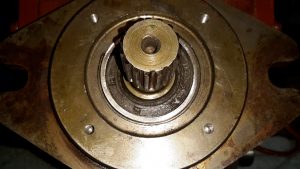 To save a considerable amount of cash (replacing the entire base casting of the pump would be hideously expensive), a 6mm ring was machined from steel, to hold the seal in place.
The face of the pump was then drilled & tapped for M5 screws.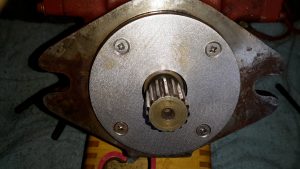 Above, the repair plate has been fitted, with the spacer ring sandwiched between it & the oil seal, securing everything in place.
Having a replaceable wear plate screwed to the front of the pump also allows for easy future repair if the coupling moves again.