Cleaning, Replacement Parts & Reassembly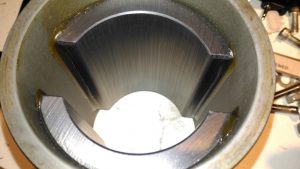 The housing of the contaminated motor was left to soak in diesel for a few hours to loosen the grok, this has come very clean. I couldn't have used a stronger solvent here – the magnets are glued in place in the steel housing, I certainly didn't want them coming loose!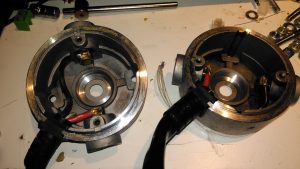 Next into the diesel bath are the motor end bells with the brushgear. Attack with a stiff brush cleaned these up very well, some cotton buds served to clean out the brass brush holders.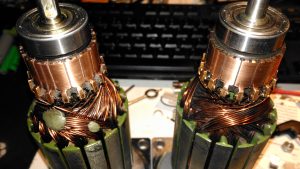 Here are both armatures, having had their commutators resurfaced. I've completely removed all traces of the wear caused by the contamination, luckly the commutator bars are very heavy on these motors so can take quite a bit of wear before there's not enough left to skim. I've not yet pulled off the old bearings, but they are all going to be replaced with new SKF bearings, as they've been contaminated with grok over the years of use. I'm also going to uprate the front motor bearings to rubber sealed instead of metal shielded, to help keep lubricant out of the motors if the gearbox seals ever fail again.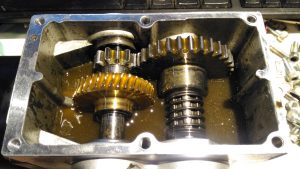 The gearboxes have been cleaned out with some elbow grease, assisted by a long soak in petrol, I've refilled them here with engine oil as temporary lube & to flush out the last remains of the old grease & solvent. The worm wheel in these boxes is bronze – so a GL4 gear oil will be required. (Some Extreme Pressure additive packs contain sulphur, and will readily attack copper alloys, such as brass & bronze).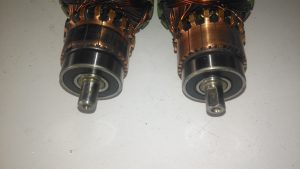 Here's the armatures, after the new SKF sealed bearings have been fitted to the commutator end, above, and the drive end, below. These will cause some extra drag on the armatures, and slightly higher power consumption as a result, but keeping the crap out of the motors is slightly more important.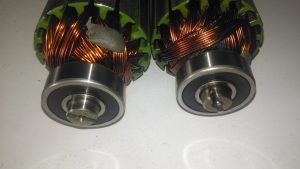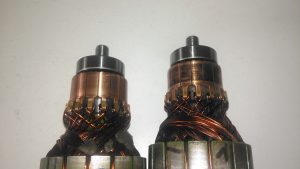 The commutators have been lightly skimmed with abrasive cloth, and finished with 1500 grit emery. The armature on the right has been run for a short time to see how the new brushes are bedding in.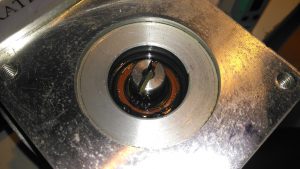 Finally, the old oil seals are pulled from the gearboxes. The worm gear bearing on the inside is actually a sealed version, with the external oil seal providing some extra sealing. I haven't changed the gearbox bearings, as they seem to be in good order, this might get done at some point in the future.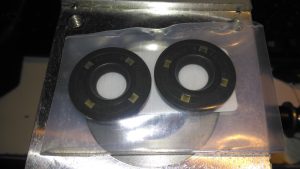 The new seals ready to be driven into the bores.