I often find myself carrying by go bag up to the boat during trips, so I can do some radio. However at 16lbs it's a pain on public transport. A fixed radio was required! Another Wouxun GK-UV950P was ordered, and the fact that the head unit is detachable from this radio makes a clean install much easier.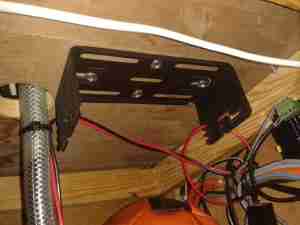 I found a nice spot under a shelf for the main radio unit, above is the mounting bracket installed.
This location is pretty much directly behind where the head unit is placed, but the audio is a bit muffled by the wooden frame of the boat & some external speakers will be required for the future.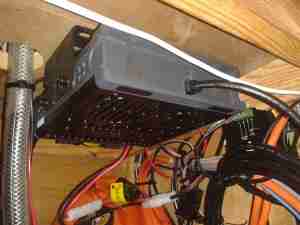 Here's the main radio unit mounted on it's bracket, with the speakers facing down to improve the audio slightly. I used the supplied interface cable for the head unit, even though it's too long. I do have the tools to swage on new RJ-45s, but the stuff is a pain to terminate nicely & I really just couldn't be bothered. So it's just coiled up with some ties to keep it tidy. Main power is provided directly from the main DC bus. (880Ah total battery capacity, plus 90A engine alternator, 40A solar capacity).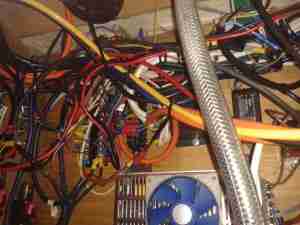 Here's the main DC bus, with the distribution bars. With the addition of new circuits over the years, this has become a little messy. At some point some labelling would be a good idea!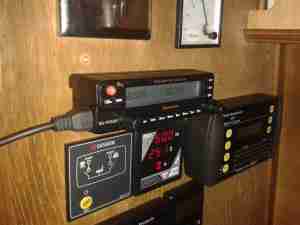 Finally, the head unit is installed in a spot on the main panel. It does stick out a little more than I'd like, but it's a lot of very dusty work with the router to make a nice hole to sink it further in. All my local repeaters & 2m/70cm simplex are programmed in at the moment.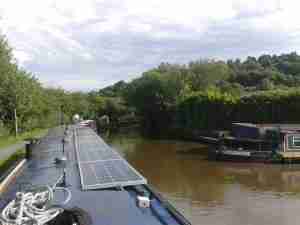 I've got a Nagoya SP-80 antenna on a magmount for the radio, a magmount being used due to the many low bridges & trees on the canal. (It's on the roof next to the first solar panel above). I prefer it to just fall over instead of having the antenna bend if anything hits it!
Part 2 will be coming soon with details of the permanent antenna feeder.
73s for now!