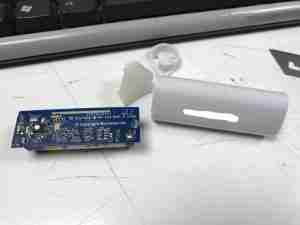 These photos were sent over to me by a friend, an interesting piece of tech that's used in the retail industry. This is a BluVision BLE Beacon, which as far as I can tell is used to provide some automated customer assistance. From their website it seems they can also be used for high-price asset protection & tracking. These units don't appear to be serviceable, being completely sealed & only having a primary cell. I'm not sure what they cost but it seems to be an expensive way to contact clients with adverts etc.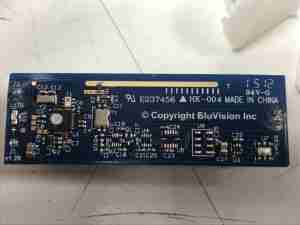 There's not much populated on this PCB, the main component here is the CC2640 SimpleLink ultra-low-power wireless microcontroller for Bluetooth Low Energy. It's a fairly powerful CPU, with an ARM Cortex M3 core, 129KB of flash & up to 48MHz clock speed. There's a couple of crystals, one of which is most likely a 32,768kHz low-power sleep watch crystal, while the other will be the full clock frequency used while it's operating. Unfortunately I can't make the markings out from the photos. There doesn't appear to be any significant power supply components, so this must be running direct from the battery underneath.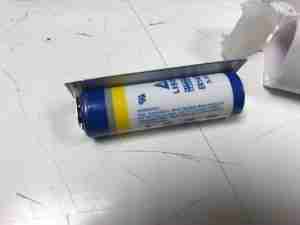 The other side of the PCB has a single primary lithium cell, rated at 3.6v, 2.2Ah. The factory spec sheet specifies a 2.2 year life at 0dBm TX Power, Running 24/7, 100ms advertisement rate.