I have recently come across the software the Wouxun factory uses to set the band limits on the KG-UV950P.
While the software is in Chinese, it's functional, and allows setting of all band limits on the radio.
[download id="5587″]
Here's an English version of the interface: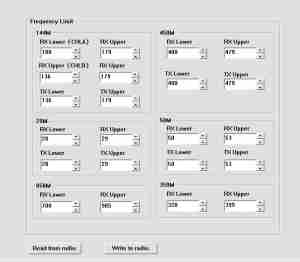 Note when using this software:
This possibly has the potential to damage the radio, if you transmit on a frequency it's not designed for. Not to mention the legal issues with transmitting on frequencies that aren't permitted! Use at your own risk!