While I'm waiting for the fan controllers to arrive for the new cooling fans, I figured I'd get them fitted into the cases of the supplies & just have them run at minimum speed for now.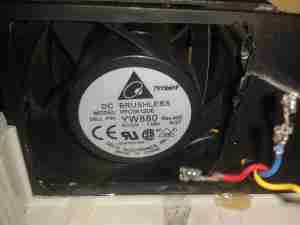 After removing the original small fan, I cut a larger square hole in the panel to fit the 60mm version. These fans only fit with some minor adjustment to the top & bottom mouldings, but the look isn't too bad once the covers are back on. The wiring is routed through a small hole next to the fan itself.
I've also upgraded on the fans again – these are PFC0612DE, with a higher airflow of ~70CFM at 12,000RPM.
To get the fans to run at minimum speed, the PWM control wire is connected directly to GND.
More to come when the controllers arrive!