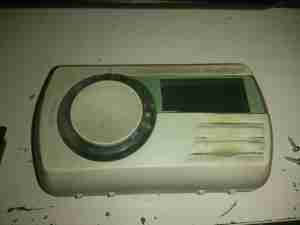 This detector has now been retired from service since it's a fair bit out of date. So here's the teardown!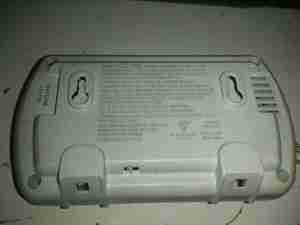 Unlike older detectors, this unit has a built in battery that never needs replacing during the life of the sensor, so once the unit reaches it's expiry date it's just trashed as a whole.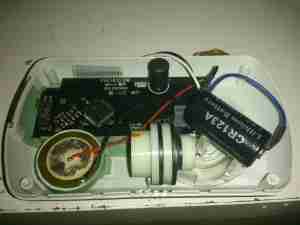 4 screws hold the cover on, here's the internals of the detector. There's a 3v CR123A LiMnO² cell at the right for power, rated at 1500mAh. A 7 year life is quite remarkable on a single cell!
The sensor is just to the left of the lithium cell, and is of quite unusual construction. Previous CO sensor cells I've seen have been small cylinders with a pair of brass pins. This one appears to use a conductive plastic as the connections. These sensors contain H²SO⁴ so they're a bit hazardous to open.
There are no manufacturer markings on the sensor & I've not been able to find any similarly shaped devices, so I'm unsure of it's specifications.
The alarm sounder is on the left, the usual Piezo disc with a resonator to increase the loudness.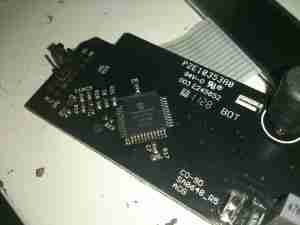 The brains of the device are provided by a Microchip PIC16F914 microcontroller. This is a fairly advanced device, with many onboard features, and NanoWatt™ technology, standby power consumption is <100nA according to Microchip's Datasheet. This would explain the incredible battery life.
The choke just at the right edge of the photo is actually a transformer to drive the Piezo sounder at high voltage.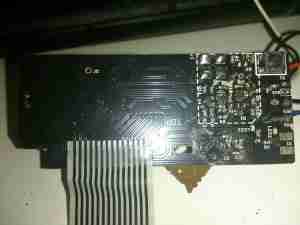 Here's the PCB with the LCD frame removed. Not much to see on the this side, the silence/test button top right & the front end for the sensor.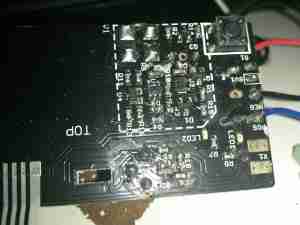 Here's a closer look at the front end for the CO sensor cell itself. I haven't been able to decode the SMT markings on the SOT packages, but I'm guessing that there's a pair of OpAmps & a voltage reference.