Recently I've noticed my usual mobile rig, the Baofeng UV-5R, has had very poor receive, and non-existent transmit.
I did a power test on the radio, and confirmed it was still outputting it's rated RF power. Trying another antenna proved that the radio was fine.
Time to tear down the antenna & see if it can be fixed!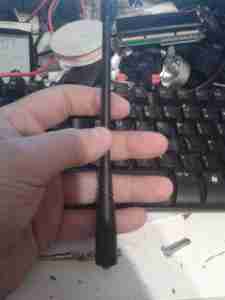 Here's the antenna, just the factory rubber duckie. As with all these antennas, they're a compromise between size & their efficiency.
Giving a gentle pull to the antenna sheath while it's attached to the radio allows it to come apart. The quality actually doesn't look to bad. It's very similar in construction to my Diamond X-30, just on a much smaller scale.
At the bottom of the antenna is the matching network, an inductor & ceramic disc capacitor. Here lies the problem with this antenna.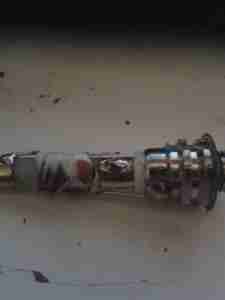 Here where the capacitor joins onto the feedpoint from the SMA connector, the solder joint has come away. This was a very poor joint to start with, and the solder hadn't wetted the capacitor lead at all
After cleaning the joint, and applying some flux, a new joint was easily made with some Real Solder.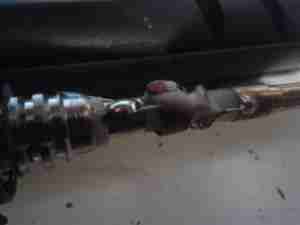 Here's the joint freshly repaired, the antenna is now back to full working order. It even seems to work better than the others I have 🙂