It's time for the final part of getting the boat's engine & drive back together, now I have the new coupling hub. I decided to address one of the issues with the pump mounting while I had everything in bits. When the hydraulic drive was installed, a custom plate was laser cut to fit the pump stack to, as we had no bellhousing with a standard mounting pattern.
Even though this plate is 10mm steel, under full load it actually bends – so to strengthen it along the long edge, I have welded a pair of ribs to the plate.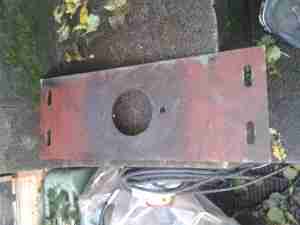 The mounting plate as removed from the mounting brackets. The slotted holes at the sides allow for some movement to adjust the position of the pump & flywheel coupling.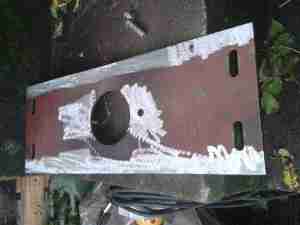 I ground off the paint & grease with an abrasive disc, and am replacing one of the pump mounting studs while I'm at it.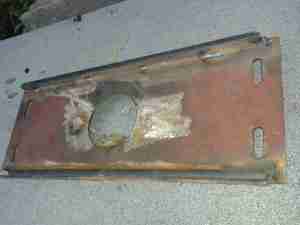 Here's the plate after welding. a pair of 10mm bars have been attached along the edges, this will give the mounting significantly more strength on the long axis & prevent any deformation.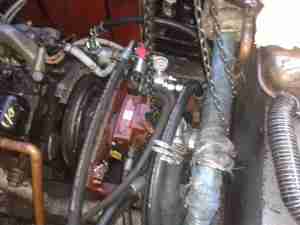 Here the plate has been loosely mounted on it's brackets, & I've got the pump stack with it's associated tangle of hoses on the chain hoist. This unit is very heavy on it's own – a 2 man job to lift it into place on it's mounts – with the very stiff hydraulic hoses attached & filled with oil it's absolutely unmanageable.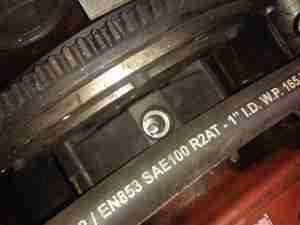 Here the pump is being jostled into place. The central hole in the mounting plate is a very snug fit, if the pump doesn't go in exactly straight it will jam & cause damage to both parts. The mating hole in the coupling hub can be seen here – it's not quite lined up yet.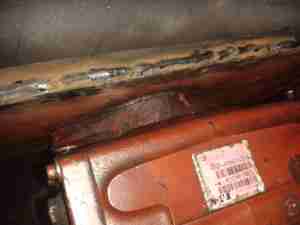 We've got about 10mm to go before the pump is seated. It's held in place with a pair of large studs & nuts.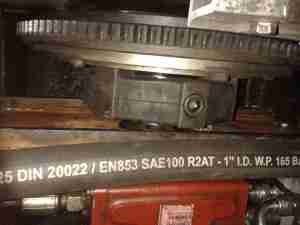 Here the pump is fitted enough to get the main mounting bolts into the coupling. These are torqued down to 150ft/lbs – a difficult thing to do considering the restricted space in the engine bay.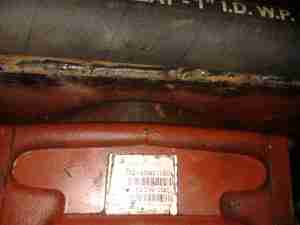 The pump has been pulled down onto the plate evenly with the mounting studs, and is now completely flush with the plate. As can be seen, I didn't bother tidying up the welds with a grinder, they aren't in any visible place in normal operation, so it didn't warrant the effort.
Finally, the control cable is reattached to the pump's control lever & everything is installed! A short test trip proved that everything was stable & no undue movement of the pump or coupling was noticed.
Until next time, 73s!