Here's a new addition to the network, mainly to replace the ancient Cisco Catalyst 3500 XL 100MB switch I've been using for many years, until I can find a decently priced second hand commercial gigabit switch.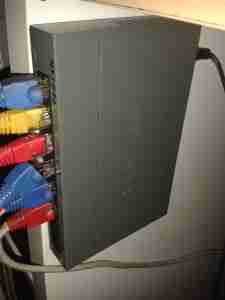 Here's the switch with some network connections on test. So far it's very stable & draws minimum power. I've not yet attempted to run my core links (NAS) through yet, as I've not yet seen a consumer grade switch that can stand up to constant full load without crashing.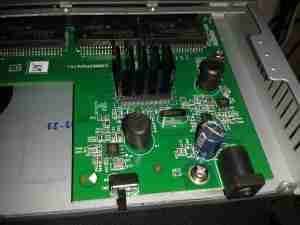 Here's the switch with it's lid popped. The magnetics can be seen at the back, next to the RJ-45 ports, the large IC in the centre is the main switching IC, with a heatsink bonded to the top. Very minimal design, with only a couple of switching regulators for power supply & not much else.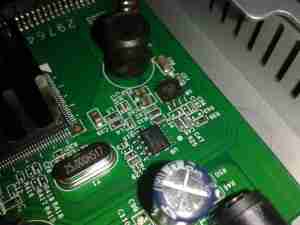 Here's a closeup of some of the support components. There's a 25MHz crystal providing a clock signal for the switch IC, just to the right of that is an EEPROM. I imagine this is storing the switch configuration & MAC address. Further right is one of the switching DC-DC converter ICs for power.
As a quick test, here's 500GB of data being shifted through the switch, at quite an impressive rate. I'm clearly maxing out the bandwidth of the link here. Soon I will upgrade to a 10G Ethernet link between the NAS & main PC to get some more performance.