As the CO meter I bought on eBay didn't register anything whatsoever, I decided I'd hack the sensor itself apart to make sure it wasn't just an empty steel can. It turns out that it's not just an empty can, but there are some reasons why the thing doesn't work 😉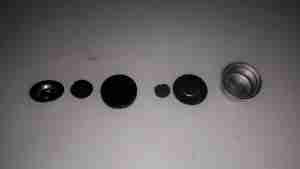 The cell was crimped together under the yellow shrinkwrap, but that's nothing my aviation snips couldn't take care of. The photo above shows the components from inside.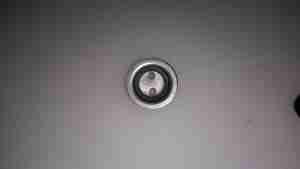 The endcap is just a steel pressing, nothing special here.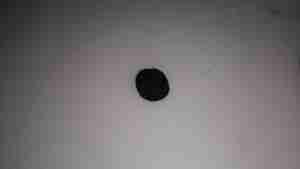 Also pretty standard is the inlet filter over the tiny hole in the next plate, even though it's a lot more porous that I've seen before in other sensors.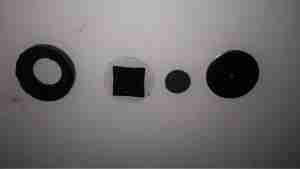 Next up is the working electrode assembly, this also forms the seal on the can when it's crimped, along with insulating it from the counter electrode & external can. The small disc third from left is supposed to be the electrode, which in these cells should be loaded with Platinum. Considering where else they've skimped in this unit, I'll be very surprised if it's anything except graphite.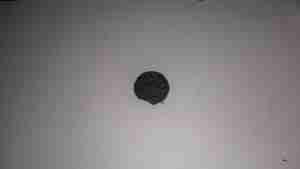 Next up is the counter electrode, which is identical to the first, working electrode. Again I doubt there's any precious metals in here.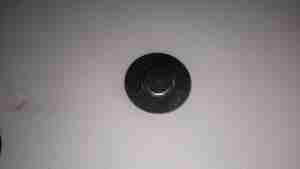 Another steel backplate finishes off the cell itself, and keeps most of the liquid out, just making sure everything stays moist.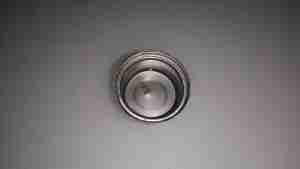 Finally, the rear of the cell holds the reservoir of liquid electrolyte. This is supposed to be Sulphuric Acid, but yet again they've skimped on the cost, and it's just WATER.
It's now not surprising that it wouldn't give me any readings, this cell never would have worked correctly, if at all, without the correct electrolyte. These cheap alarms are dangerous, as people will trust it to alert them to high CO levels, when in fact it's nothing more than a fancy flashing LED with an LCD display.
Ironically enough, when I connected a real electrochemical CO detector cell to the circuit from the alarm, it started working, detecting CO given off from a burning Butane lighter. It wouldn't be calibrated, but it proves everything electronic is there & operational. It's not surprising that the corner cut in this instance is on the sensor cell, as they contain precious metals & require careful manufacturing it's where the cost lies with these alarms.