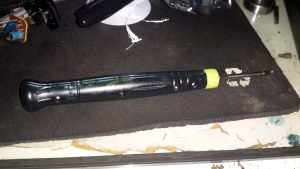 Here's a novel little gadget, a USB powered soldering iron. The heating tip on these is very small & might be useful for very small SMD work. Bigger joints not so much, as it's only rated at 8W. (Still breaks the USB standard of 2.5W from a single port).
These irons aren't actually too bad to use, as long as the limitations in power are respected. Since nearly everything has a USB power port these days, it could make for a handy emergency soldering iron.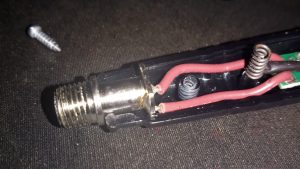 The heater & soldering bit are a single unit, not designed to be replaced separately. (I've not managed to find replacement elements, but at £3 for the entire iron, it would be pretty pointless).
Above is the socket where the heater plugs in, safely isolating the plastic body from any stray heat.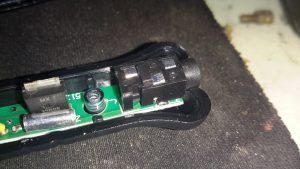 The DC input is a 3.5mm audio jack, a non-standard USB to 3.5mm jack cable is supplied. Such non-standard cables have the potential to damage equipment that isn't expecting to see 5v on an audio input if it's used incorrectly.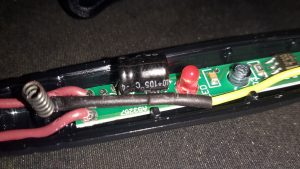 There isn't actually a switch on this unit for power management, but a clever arrangement of a touch button & vibration switch. The vertical spring in the photo above makes contact with a steel ball bearing pressed into the plastic housing, forming the touch contact.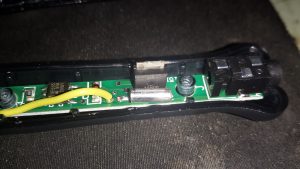 The large MOSFET here is switching the main heater current, the silver cylinder in front is the vibration switch, connected in parallel with the touch button.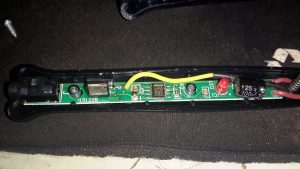 The main controller is very simple. It's a 555 timer configured in monostable mode. Below is a schematic showing the basic circuit.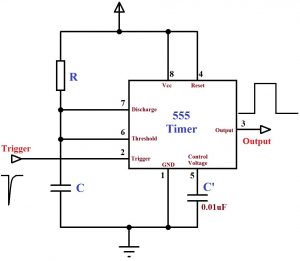 Big Clive also did a teardown & review of this iron. Head over to YouTube to watch.