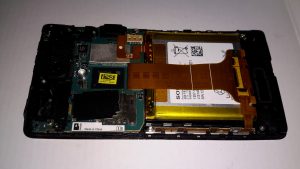 Since this phone has been in my drawer for some time, I figured it was time for a teardown. (It's never going to see any more use).
The back cover on these phones is easily removed, as it's just clipped on.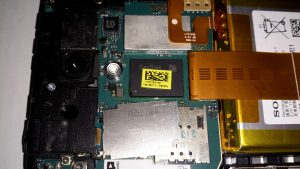 Once the back cover is removed, the Li-Polymer cell is exposed, along with the logic board. Pretty much all of the PCB is under RF shields.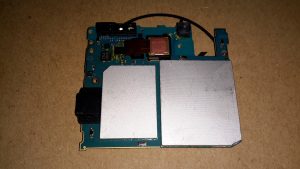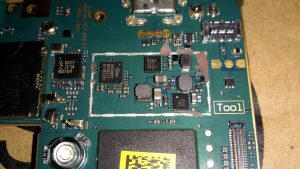 Under the small RF can on the back of the board is the battery management circuitry & the charger. There's an extra connection to the cell for temperature monitoring. Just under that circuitry is the eMMC flash storage.
Just to the left of the battery circuit is the NFC transceiver IC, from NXP.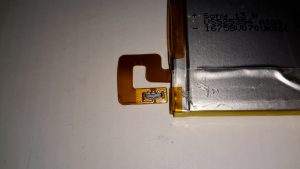 The cell is connected to the main board with a FFC, with a very small SMT connector, although not as small as the more modern Xperia series phones.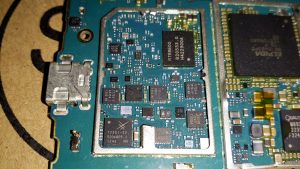 The other side of the mainboard holds the large RF transceiver section, with a Qualcomm RTR8600 multiband transceiver IC. In the bottom corner is a Skyworks SKY77351-32 Quad-band power amplifier IC, along with 3 other power amplifier ICs, also from Skyworks.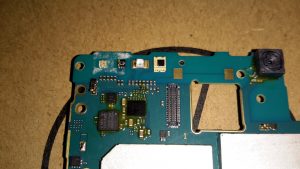 The top corner of the board holds the various sensors, including an Invensense MPU-3050 3-axis gyro. To the right of that is the Audio Codec, a WCD9310 from Qualcomm.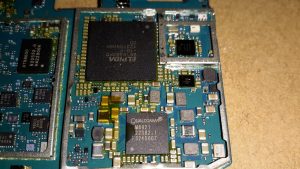 Everything is controlled from the last section on the board, with the main CPU & RAM in a PoP (Package-On-Package) configuration. Under the main CPU is the main power management IC, also from Qualcomm. No datasheet for this one unfortunately, but it gives it's purpose away by being surrounded by large inductors & capacitors.