Since I fitted my scope with a SMPS based 12v input supply, there has been a noise problem on very low volts/div settings, this noise isn't present on the mains supply, so I can only think it's coming from the switching frequencies of the various DC-DC modules I've used.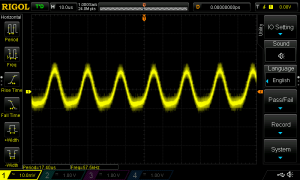 Because of this I've designed a linear post-regulation stage for the supply, to remove the RFI from the DC rails.
This board takes the outputs from the DC-DC converters, removes all the noise & outputs clean DC onto the mainboard of the scope.
As the scope internally uses regulation to get the voltages lower, I've found that I don't have to match the outputs of the mains supply exactly, for the +/-17.5v rails, 12v is perfectly fine instead.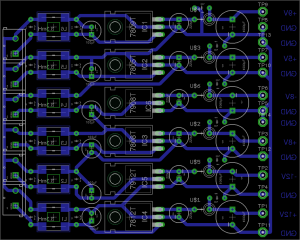 Here's the PCB layout, with the 6  common mode filters on the input (left), linear regulator ICs in the centre & the output filters on the right.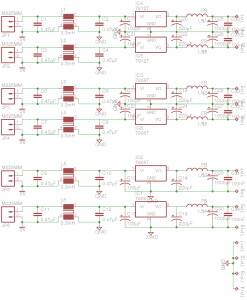 Here's the schematic layout, as usual the Eagle Project files are in the link below, I'll update when I have built the board & tested!
[download id="5589″]
73s for now 🙂