The power supplies I have recently built from surplus Cisco switch boards have started displaying a rather irritating problem – continual load of over 9A causes the supplies to shut down on overheat.
This was partially expected, as the original switches that these supplies came from are cooled by a monster of a centrifugal blower that could give a Dyson a run for it's money. The problem with these fans is that they're very loud, draw a lot of power (3-4A) and aren't small enough to fit into the case I've used for the project.
The solution of course, is a bigger fan – I've got some Delta AFB0612EHE server fans, these are very powerful axial units, shifting 60CFM at 11,000RPM, with a power draw of 1.12A.
They're 60mm diameter, so only just fit into the back of the case – although they stick out of the back by 40mm.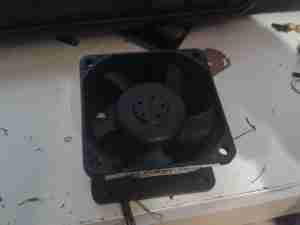 Here's the fan, not the beefiest I have, but the beefiest that will fit into the available space.
These will easily take fingers off if they get too close at full speed, so guards will definitely be required.
To reduce the noise (they sound like jet engines at full pelt), I have ordered some PWM controllers that have a temperature sensor onboard, so I can have the fan run at a speed proportional to the PSU temperature. I will probably attach the sensor to the output rectifier heatsink, since that's got the highest thermal load for it's size.
More to come when parts arrive!
73s for now 🙂