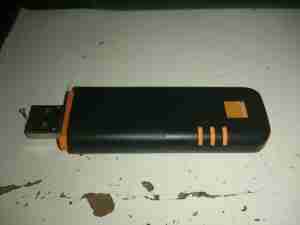 Here's an old HDSPA 3G USB modem stick that I got with a mobile phone contact many years ago. As it's now very old tech, and I have a faster modem, not to mention that I'm no longer with Orange (Robbing <expletive>), here's a teardown of the device!
The top shell is just clipped into place, while a pair of very small screws hold down the orange piece at left to hold the PCB stack in the casing. Not much to see here, but it's clear that there's a lot crammed into a very small space.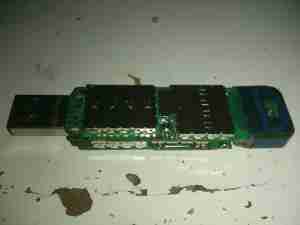 Here's the PCB stack removed from the outer casing. The main antenna is on the right, attached with another small screw. Every IC on the boards is covered with an RF can. No problems there, pliers to the rescue!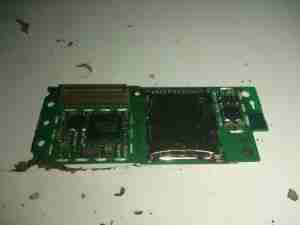 Here's the top PCB, all the shields have been removed. On the left is a Qualcomm PM6658 Power Management IC with integrated USB transceiver. This is surrounded by many of the power management circuits.
The integrated SD Card slot is on the right side. with what looks to be a local switching regulator for supply voltage. This might also provide the SIM card with it's power supply.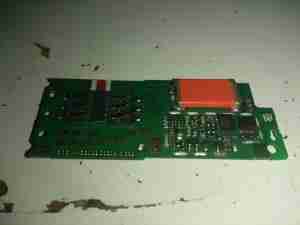 The other side of the top board reveals more power management, with another switching regulator, and a truly massive capacitor at the top edge. I'm guessing this is a solid Tantalum.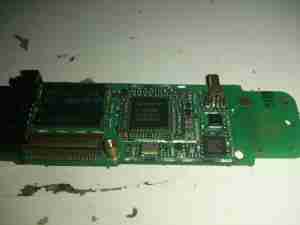 The other PCB holds the main chipset & RF circuits. On the left here is a Samsung MCP K5D1G13ACH IC. This one is a multiple chip package, having 1Gbit of NAND Flash & 512Mbit of mobile SDRAM.
To it's right is a Qualcomm RTR6285 RF Transceiver. This IC supports multiband GSM/EDGE/UMTS frequencies & also has a GPS receive amplifier included.
At bottom right is an Avago ACPM7371 Wide-Band 4×4 CDMA Power Amplifier. The external antenna connector is top right.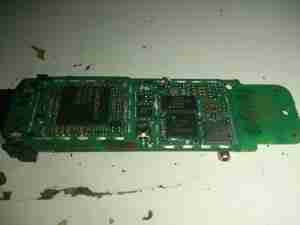 On the other side of the main PCB is a Qualcomm MSM6246 Baseband processor. Not sure about this one as I can't find anything resembling a datasheet. Another micro-coax connector is in the centre, probably for factory test purposes, as it's not accessible from the outside.
Just above the coax connector is a Qorvo RF1450 SP4T (single-pole 4-throw) High Power (34.5dBm) GSM RF Switch.
Upper right is an Avago FEM-7780 UMTS2100 4×7 Front End Module.
Under that is an RFMD RF3163 Quad-Band RF Power Amplifier Module.