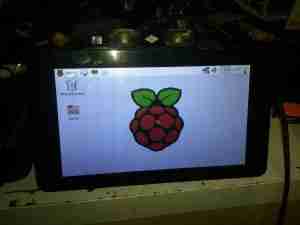 Finally the Raspberry Pi Foundation have released an official LCD for the DSI connector on the Pi. When these were announced, I placed an order straight away, but due to demand it's taken quite a while for it to arrive in the post.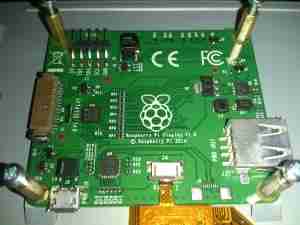 The LCD itself is an RGB panel, to interface the Pi via the MIPI DSI port, some signal conversion is required. A small PCB is mounted on the back of the LCD to do this conversion. It also handles the power supply rails required by the LCD itself & interfacing the touch screen.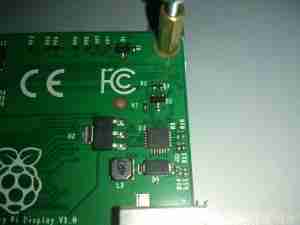 Taking care of the power supply is a Texas Instruments TPS65101 triple output LCD power supply IC. This also has a built in linear regulator to supply 3.3v for the rest of the circuitry on board. The large transistor to the left of the IC is the pass transistor for this regulator.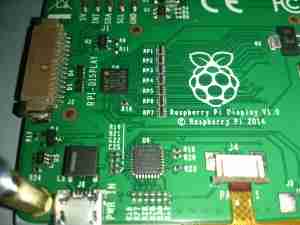 The video signal comes in on the FFC connector on the left, into the BGA IC. I've not managed to identify this component, but it's doing the conversion from serial video from the Pi to parallel RGB for the LCD.
There's also an Atmel ATtiny88 on the board below the main video conversion IC, not sure what this is doing.
The touch controller itself is mounted on the flex of the LCD, in this case it's a FT5406.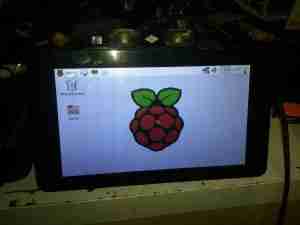 Here's the LCD in operation. It's not the highest resolution out there, but it leaves the GPIO & HDMI ports free for other uses.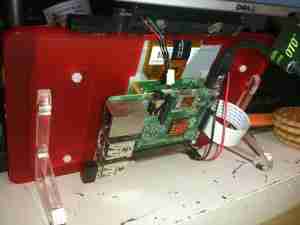 The Pi screws to the back of the LCD & is connected with a flat flex cable & a pair of power jumpers. I've added a couple of small speakers to the top edge of the LCD to provide sound. (More to come on this bit).