Here's another viewfinder CRT, removed from a 1980's vintage VHS camera I managed to get cheap from eBay.
This unit is very similar to the last one I posted about, although there are a few small differences in the control circuitry.
Here's the schematic, showing all the functional blocks of the viewfinder circuitry. An integrated viewfinder IC is used, which generates all the required scan waveforms for the CRT.
On the left is the input connector, with the power & video signals. Only pins 2 (GND), 3 (Composite video), & 4 (+8v) are needed here. Pin 1 outputs a horizontal sync signal for use elsewhere in the camera, while pin 5 fed the recording indicator LED.
To make connection easier,  I have rearranged the wires in the input connector to a more understandable colour scheme: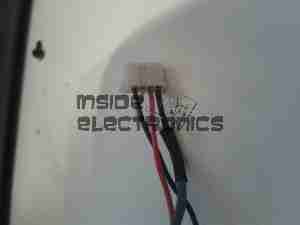 Red & Blue for power input, & a coax for the video. For the video GND connection, I have repurposed the Rec. LED input pin, putting a shorting link across where the LED would go to create a link to signal ground. Keeping this separate from the power GND connection reduces noise on the CRT.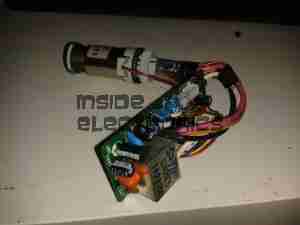 Here's the complete assembly liberated from it's plastic enclosure.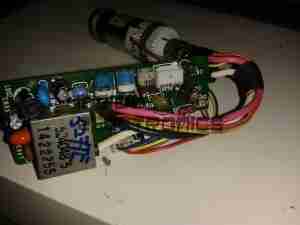 Closeup of the control PCB. The 3 potentiometers control the CRT brightness, focus & vertical size.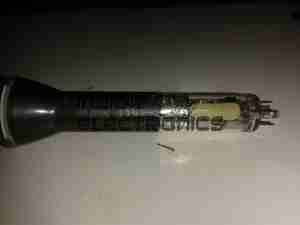 The tiny CRT. Only ~60mm in length, with an 18mm screen size. This tube runs on +2294v final anode voltage. Much higher than I expected.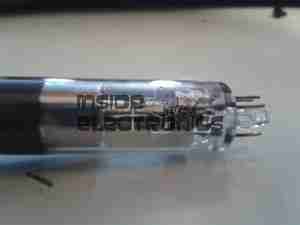 The electron gun assembly, with the cathode, focus & final anode cups.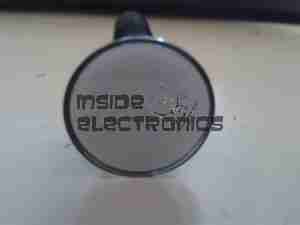 This screen is just a little bigger than a UK 5p piece! A marvel of precision engineering.